Message
Address from the Former President
Deguchi Koichiro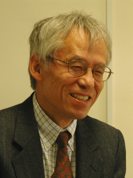 The TRAFST is a unique union of 40 academic societies of social science, engineering, applied mathematics, and human sciences. The transdisciplinary sciences and technologies have transversal roles in many individual academic fields. Their typical examples include, for example, information sciences, control sciences, systems management, optimization, simulation technology design science, and so on. Our goal is to promote these sciences and technologies for innovations in industry and research.

In this year, we have 9th anniversary of the establishment of TRAFST. We have been sentencing the importance of the transdisciplinary science and technology for solving versatile modern complex problems in human lives.

Now, after the large earthquake disaster on 3.11, we decided to devote ourselves to plan and design the social infrastructure reconstruction. It is the time to show our actual practice to prove that our opinion will be supporting dependable safe society.

Join and take part in our activity with us to promote transdisciplinary sciences and technologies.